History Family Photo Gallery
Samuel was the son of Josiah and Olive Conant, who moved to Richmond from Beverly, MA in 1802. Samuel grew up on Main St. in Richmond Village, where his father owned a livery and stable. In 1829, Samuel married Lucy Barber, and purchased the Barber Farm on Hillview Road, where he farmed for several years. Sadly, Lucy died at the age of 29, leaving Samuel a widower. In 1840, Samuel married Harriet Pierce, and in 1846 they purchased Riverside Farms, which, at that time, was called "the turnpike farm" and later became called "Conant's flats." Together, Samuel and Harriet established Riverside Farms and had five children, Polly Jane, Samuel, Harriet, Ransom, and Hiram.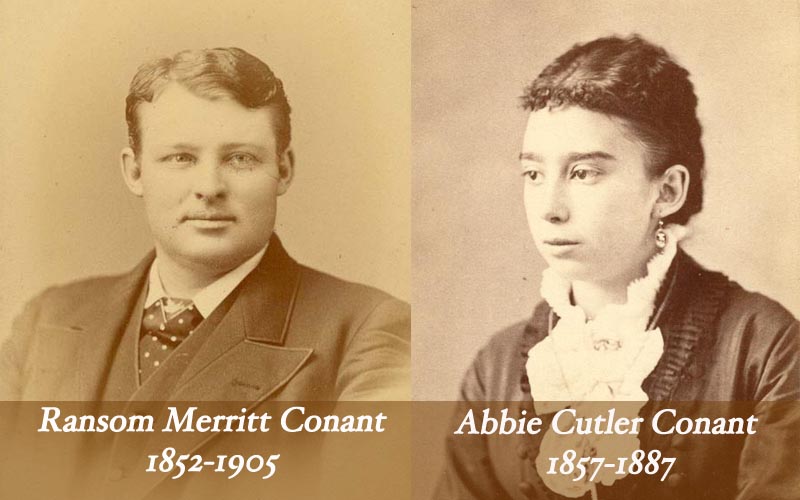 Ransom Merritt Conant was a farmer and an equestrian, who loved racing horses, and built a racetrack at Riverside Farms. His first wife, Dora Flagg Conant, died due to complications related to child birth. She was 26 years old. Together, they had three children: Willard, Sarah, and Herbert. Ransom married Abbie Jane Cutler three years later, and together they had two children, Fay & Leverette.
Leverette, the youngest child of Ransom and Abbie, was known to friends as "Lev" or "L.C." He married Myrtle Helen Martin in 1908, and together they had five children, twin girls named Virginia and Constance (Ginny & Connie), June, Ransom, and Willard (Bill). Myrtle Conant was the great, great, great granddaughter of Thomas Chittenden, the first Governor of Vermont.
Together, Myrtle and Lev are responsible for building much of what we know as Riverside Farms, today. In April 1915, the original barn burned to the ground (the result of some mischievous children who were playing with matches), and they hired a crew of 30 men to rebuild it. They hauled logs out of the woods with oxen, and used a portable saw mill to cut planks. The new barn was completed in August, record time.
Myrtle was industrious. During the Depression, she put a sign out front of the farm, and started hosting "tourists," long before the term "Agritourism" had been conceived. In the summers, the kids relocated to the "cheese house" and rooms were let out to guests. With the help of her niece, Minnie Cutler, she hosted hundreds of guests throughout the 1930's.
Lev & Myrtle's oldest son, Ransom, married Gloria Linsenmeir in 1947, and together they had six children: Mary Lynn, Sarah, David, Kim, Jay, and Christopher. A true team, they lead the farm through a pivotal period of modernization - from the widespread adoption of mechanical tractors to the introduction of the bulk tank. In 1969, Ransom was taken from this earth too soon when he succumbed to a sudden, fatal heart attack. Gloria was left with a heartache that lasted until the end of her days, but remained strong, leading her family forward. Defying the odds, she kept the farm going, raised her six children, and rose to become a leader in the community, serving in the Vermont House of Representatives, on the UVM Board of Trustees, and as the Chair of the Governor's Ag Advisory Board. In 1983, she was named "National Dairy Woman of the Year" at the World Dairy Expo in Wisconsin. Gloria left this world on a warm spring day in 2012, surrounded by her children, but she is always with us in our hearts.